Profile > Loy de Jager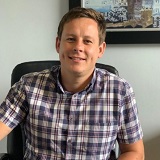 Contact Loy
++27 82 855 9591 Mobile
[email protected]
"Loy de Jager specialises in the industrial and commercial property sector within the greater Durban and North Coast areas."
Loy de Jager
Property Practitioner

Loy de Jager holds a Bachelor of Commerce (Logistics) degree from the University of South Africa. After graduating he worked for a freight company, after which he decided to travel the world while working on super yachts for two years.

Loy always had a keen interest in business. While studying he started an ice company that has now been running successfully for six years. He has shown to be very competitive and is confident that he will own the majority share of the ice market in the Durban North suburbs in the years to come. His start up business taught him a range of business ethics and skills that he is able to use moving forward in his career at PPI.

Loy excelled from a young age in Triathlon racing for South Africa locally and internationally. He also raced for a Hungarian club where he stayed and trained during their summer months for 4 years. Today he still enjoys keeping fit and the outdoors.

Loy believes in hard work, honesty and loyalty. He strives to build strong relationships to enable for future success on a business and a personal level.