Profile > Marinus De Jager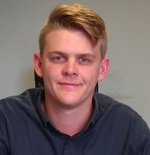 Contact Marinus
++27 72 607 6715 Mobile
[email protected]
"Marinus de Jager is a commercial and industrial property practitioner that specialises in the Western and Northern areas of Kwazulu-Natal"
Marinus De Jager
Candidate Property Practitioner

Marinus grew up in Pretoria and moved to Durban when he finished school to pursue his property career.

He played rugby when he was younger and then Started playing ice hockey.He competed internationally and Represented South Africa.

He is a very passionate person that works hard and loves to see the results.