UK Property - The housing market under recent Prime Ministers
With housing a central focus of the parties' manifestos, our research team has updated its assessment of how the UK property market has fared under recent Prime Ministers. The data examined focusses on house price changes and housebuilding figures over the last 60 years.
House prices:
The table below shows the extent to which UK house prices rose during each Prime Minister's term in office, it also calculates the average annual percentage change.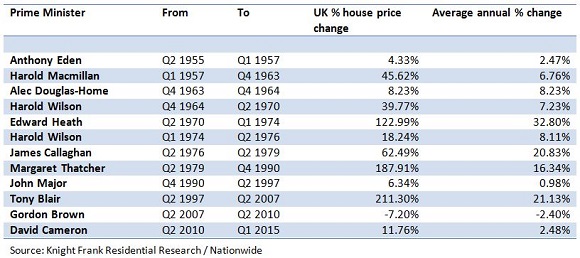 UK house prices rose the most under Tony Blair's tenure (211.3%) followed by that of Margaret Thatcher. Prices rose by 187.9% during her time at No.10.
On an annualised basis, UK prices performed most strongly under Edward Heath when growth averaged 32.8% per annum. The second highest annual average occurred under Mr Blair's leadership when UK house prices increased by 21.1%. This was closely followed by James Callaghan's period in office when, between the second quarter of 1976 and the second quarter of 1979, UK house prices rose on average by 20.8%.
More recently, David Cameron has presided over house price growth of 11.76% since 2010, an average of 2.48% per annum.
Housebuilding
Housebuilding has come to the fore in recent weeks, with all of the large UK political parties all promoting policies designed to increase the supply of homes. While Labour has pledged to build 200,000 homes each year and the Liberal Democrats are promising 300,000, the Conservatives have stated that housebuilding targets will be for local councils to decide.
Below we have revisited our earlier examination of historical housebuilding levels under recent Prime Ministers, including David Cameron's full term. As before, Margaret Thatcher presided over the largest level of housebuilding of any Prime Minister since Anthony Eden, followed by Harold Macmillan and Harold Wilson, during his first term.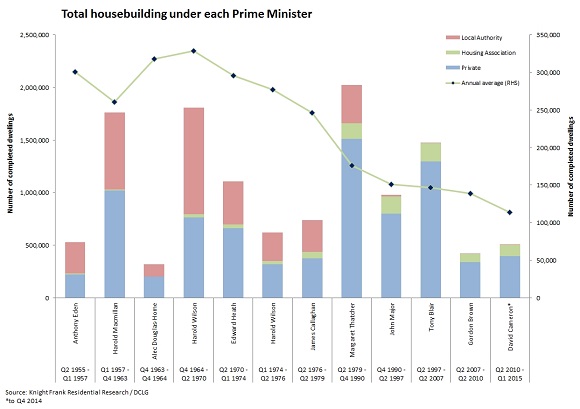 In terms of the average annual levels of housing completions, activity was highest in the late 1960′s under Harold Wilson's leadership.
More recently, housebuilding levels during David Cameron's time in Number 10 are the lowest they have ever been, although this is a downward trend that has continued since 1970.
Grainne Gilmore, UK Head of Residential Research at Knight Frank, said:
"The decline in the annual rate of housebuilding under recent prime ministers underlines the importance of housing as an election issue. It is crucial that the next government introduce detailed, workable and effective measures to boost housing supply across the country."
Courtesy: Knight Frank LLP

FOR FURTHER INFORMATION PLEASE CONTACT
Jamie Obertelli - Residential Research PR Manager
T: +44 (0) 20 7861 1104
M: +44 (0) 7776 769511
W: www.KnightFrank.com