UK Property - Market Outlook: Week Beginning 15 February
House price growth is slowing, according to several recent reports. It reflects some unusual circumstances at the start of the year instead of signalling the start of a steeper decline. Three-quarters of people who responded to our latest survey agree.
The property market has become accustomed to dramatic trends over the last 12 months.
In recent weeks the Halifax, Nationwide and RICS have said price growth is slowing and the rationale for thinking the market is on the brink of reversing the gains made during the pandemic is understandable.
However, there are several reasons to believe 2021 will be less of a roller-coaster ride than last year for the housing market.
First, activity is currently being influenced by a third national lockdown and the end of the stamp duty holiday, both of which will have a time-limited effect.
During lockdown, home schooling means many potential sellers have delayed listing. For buyers, there is the added uncertainty of a more contagious Covid-19 variant.
In relation to stamp duty, while many will make every effort to complete before the 31 March, new buyers and sellers may wait in the belief the deadline has been missed. For transactions underway, a renegotiated deal is a likelier outcome than a collapsed deal.
Overall, the holiday has played a supporting rather than a central role in driving demand since July.
All of which suggests a certain amount of activity has been delayed until the spring, which could produce some short-term downwards pressure on prices as more sellers come to the market at the same time.
However, over the course of the year we expect UK prices to be flat, underpinned by steadier and more seasonal demand after the summer and as the vaccine rollout gathers pace.
A similarly positive outlook was reflected in the responses to our latest survey, which charts how optimism surrounding house prices has grown since last May following an eight-week shutdown of the market.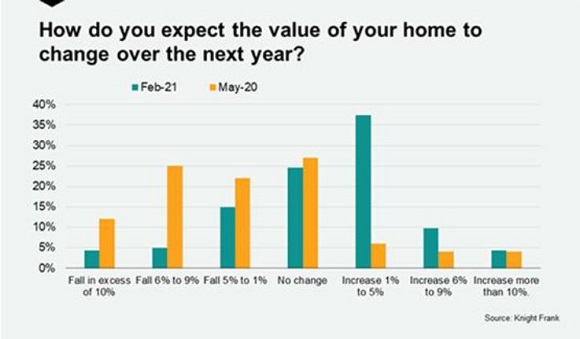 The biggest change over the last nine months relates to the number of people who think their house will rise in value by between 1% and 5%. While only 6% thought that would be the case last May, the figure was 37% at the start of this year.
Our forecast for this year is also based on the assumption that the end of the furlough scheme is unlikely to produce a major shock for house prices.
In response to a question about how much buyers would be willing to spend on buying a property as a result of the pandemic, 60% said there had been no change while a quarter said their budget had increased by up to 10%. The remainder said their budget had fallen.
Although this year won't be as dramatic for the housing market as last year, we may be equally as surprised by its resilience
Courtesy: Knight Frank

FOR FURTHER INFORMATION, PLEASE CONTACT:
Leona Mehra - Country PR Manager
T: +44 20 7167 2491
S: +44 20 7629 8171
M: +44 7970 155 151
knightfrank.com
Knight Frank
55 Baker Street
London
W1U 8AN
United Kingdom
DISCLAIMER
Knight Frank Research provides strategic advice, consultancy services and forecasting to a wide range of clients worldwide including developers, investors, funding organisations, corporate institutions and the public sector. All our clients recognise the need for expert independent advice customised to their specific needs. Important Notice: © Knight Frank LLP 2020 This report is published for general information only and not to be relied upon in any way. Although high standards have been used in the preparation of the information, analysis, views and projections presented in this report, no responsibility or liability whatsoever can be accepted by Knight Frank LLP for any loss or damage resultant from any use of, reliance on or reference to the contents of this document. As a general report, this material does not necessarily represent the view of Knight Frank LLP in relation to particular properties or projects. Reproduction of this report in whole or in part is not allowed without prior written approval of Knight Frank LLP to the form and content within which it appears. Knight Frank LLP is a limited liability partnership registered in England with registered number OC305934. Our registered office is 55 Baker Street, London, W1U 8AN, where you may look at a list of members' names.