International Update - Cities spring back to life fuelling a global surge in US$10m+ property sales
London, UK – Latest research from Knight Frank reveals that cities are springing back to life and are fuelling a global surge in super-prime (US$10m+) property sales. 785 super-prime sales took place across seven global cities analysed during the first six months of 2021, more than double the amount of sales compared to the same period in 2020 and up 52% on the corresponding period of 2019.
Liam Bailey, global head of research at Knight Frank said: "Vaccine roll outs have aided the reopening of some of the world's major cities – giving confidence to wealthy residents to commit to property moves in prime central locations. Despite concerns over new Covid variants – the search for space and a focus on wellbeing are driving decisions, and the prospect for easier cross-border travel in the final months of the year, means we expect super-prime sales to end 2021 on a high."
Wealthy buyers spent US$13.8 billion, snapping up homes across New York, Los Angeles, Hong Kong, London, Sydney, Singapore and Dubai during the period.
New York was the most active super-prime market during the period, with 202 sales above US$10m. The city is experiencing a rapid reopening and the state has now vaccinated 70% of its adult population. Interestingly, apartments are back in demand with super-prime sales of apartments rising from a low of 77% of all super-prime sales in 2020 to 86% in the first half of 2021.
Los Angeles has also seen a flurry of activity at the top end of the market with 171 sales so far in 2021 – almost three times the number over the same period in 2020. This follows the strength of the wider prime market in Los Angeles in the wake of the pandemic given its lifestyle offering. There are opportunities for large spacious homes, inside and outside, and weather that allows for year-round use of outside space.
Paddy Dring, global head of prime sales at Knight Frank said: "The positive sales data highlights the reassuring strength of domestic demand, coupled with ongoing and pent-up international demand in all key global cities.
"Each market has its own unique drivers of demand, whether that's recent price corrections, lifestyle advantages - such as beaches and green space, or the emergence of a new breed of super prime development. However, all markets share common themes – namely, rapidly improving sentiment amid the reopening of cities and a unified shift in lifestyles as the wealthy seek out larger homes and more amenity rich locations."
Sydney is seeing a similar rise in super-prime sales activity. In early 2021, sales more than doubled compared to the same period in 2020 from 20 to 54 and up 38 compared to the first six months of 2019. With Australia's international borders unlikely to open without restrictions before 2023, Sydney's ultra-wealthy are building their property portfolios at home. That includes upsizing family homes and purchasing homes for future generations, following a perceived notion that prices will continue to rise.
Singapore's super-prime segment has also been gaining momentum. There have been 119 sales above U$10m in the first half of 2021, undoubtedly boosted by the 20 units sold at the prime new development 'Eden' averaging US$11m each. This is more than four times the number compared to the same period last year and almost more than what was sold in the whole of 2020 and 2019 combined. Singapore has cemented itself as a safe haven for wealth, given how it handled the pandemic and economic fallout.
Hong Kong has seen US$2.4 billion transacted so far this year, well above the US$1.4 billion in the same period of 2020. The territory has seen a rebound in transaction volumes with prices now around 3% from their historical peak following a fall of 7% in 2020.
Paddy Dring, global head of prime sales at Knight Frank continues: "London's super-prime market was the most active in 2020 out of all the cities analysed. The first six months of 2021 has seen sales 10% higher than the same period in 2020 with 106 and 96 sales respectively.
"Space and single-family homes have been highly sought after with their share of super-prime sales rising to 73% up from around 55% in 2019. Prices in prime central London also registered the first annual growth for five years in May of this year."
Dubai's super-prime market rebounded in 2021 with 22 sales in the first five months of 2021 (data is delayed by a month) up from six in the same period of 2020.
Wealthy buyers fuel a global surge in urban super prime sales
The number of super-prime (US$10m+) sales, January - June each year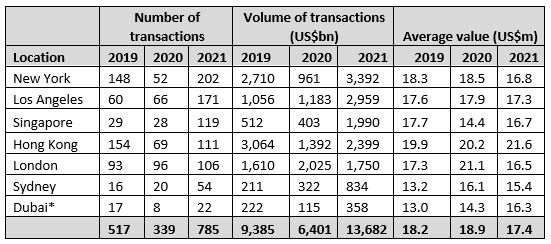 Exchange rate calculated at 30 June 2021
*Dubai figures January – May in each time period due to lags in reporting
Data correct as at 5 July 2021
Single-family demand
Proportion of US$10m+ sales that are single-family residences in selected markets

Courtesy:Knight Frank

FOR FURTHER INFORMATION, PLEASE CONTACT:
Astrid Recaldin,née Etchells - Head of Global Wealth & International PR
R: ++44 20 7861 1182
S: ++44 20 7629 8171
M: ++44 777 676 3481
Email: [email protected]
Knight Frank LLP is the leading independent global property consultancy. Headquartered in London, Knight Frank has more than 20,000 people operating from 488 offices across 57 territories. The Group advises clients ranging from individual owners and buyers to major developers, investors and corporate tenants. For further information about the Company, please visit knightfrank.com