International Property - Global housing markets record double-digit annual price growth
Almost 50% of global housing markets record double-digit annual price growth
The Global House Price Index tracks the movement of mainstream residential prices across 56 countries and territories worldwide. The index tracks nominal prices in local currency.
Written By: Kate Everett-Allen, Knight Frank
House prices globally continue to rise. The value of an average home increased by 9.4% in the 12 months to Q3 2021, up marginally from 9.2% last quarter.
Fifty-four of the 56 countries and territories tracked by the index saw prices rise year-on-year, only Malaysia and Morocco bucked the trend.
Furthermore, the proportion of housing markets witnessing annual price growth in excess of 10% now sits at 48%, up from 13% at the start of the pandemic.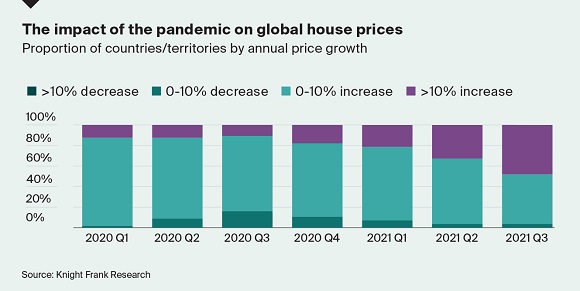 Have prices peaked?
Despite the boom times there are signs the rate of growth may have peaked in some parts of the world.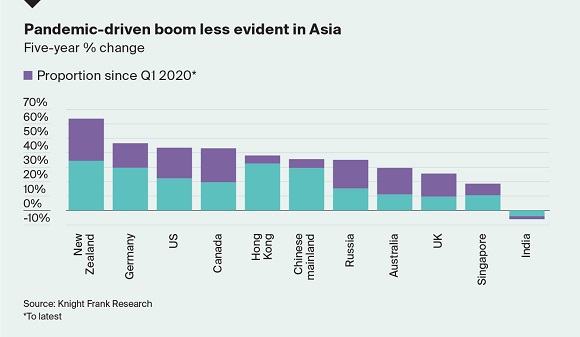 Eighteen countries and territories saw their rate of annual price growth moderate between June and September this year, amongst them some of the strongest performers since the start of the pandemic: New Zealand, the United States and the United Kingdom. Here, interest rate hikes, changes to property taxes and affordability concerns are contributing to slower rates of growth.
Where next?
However, as we discussed in our Global Prime Residential Forecast for 2022, the real estate boom we've seen globally is expected to continue into 2022, Omicron and new variants permitting.
Real house price growth
With inflation on the rise across key economies the main results table now shows both the nominal and real (inflation-adjusted) rate of price growth over a 12-month period.
Courtesy: Knight Frank

Notes to Editors
Knight Frank LLP is the leading independent global property consultancy. Headquartered in London, Knight Frank has more than 20,000 people operating from 488 offices across 57 territories. The Group advises clients ranging from individual owners and buyers to major developers, investors and corporate tenants. For further information about the Company, please visit knightfrank.com