International Property - Global House Price Index Q1 2022
The Global House Price Index tracks the movement of average residential prices across 56 countries and territories worldwide. The index tracks nominal and real price growth in local currencies.
HEADLINES
TURKEY THE COUNTRY WITH THE HIGHEST RATE OF ANNUAL PRICE GROWTH IN THE YEAR TO Q1 2022
SOUTH KOREA THE MARKET THAT HAS SEEN ITS RATE OF GROWTH SLOW THE MOST IN THE LAST SIX MONTHS
10.2% AVERAGE ANNUAL PRICE CHANGE ACROSS 56 COUNTRIES AND TERRITORIES
18.6% THE AVERAGE INCREASE IN THE PRICE OF A HOME IN NORTH AMERICA IN THE LATEST 12-MONTH PERIOD
2 THE NUMBER OF MARKETS WHERE PRICES DECLINED IN THE LATEST 12-MONTH PERIOD
House prices across 56 countries and territories worldwide increased by 10.2% on average in the year to March 2022.
Despite mounting headwinds, there are still only two markets (Malaysia and Morocco) where prices declined over a 12-month period. Furthermore, 45% of markets are still registering double-digit price growth on an annual basis. So, why are economists predicting a house price slowdown?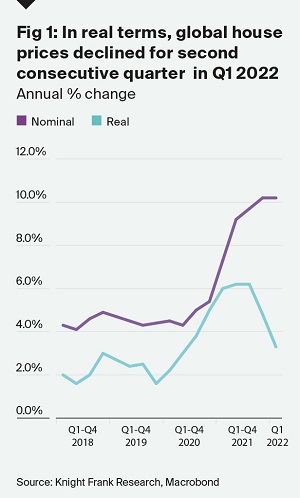 The pandemic, resulting supply chain issues, and the crisis in Ukraine are fuelling global inflation. High inflation means rates will rise pushing up the cost of debt at a time when the cost of living, food and energy prices in particular, are soaring, reducing disposable incomes and the ability of households to relocate or upgrade their homes.
Amongst others, the US, UK, Australia, New Zealand and Canada, all hiked rates in the first quarter and even the dovish European Central Bank is expected to act in July with a view to exiting negative rates in September or even sooner.
But in most cases, we expect a soft landing due to supply constraints, robust household balance-sheets and a greater willingness on the part of homeowners to spend more on their living arrangements following stringent lockdowns.
Strong inflation means the gap between nominal and real house price growth is widening. In nominal terms, house prices across 56 countries and territories are rising at a rate of 10.2%, in real terms (once adjusted for inflation) the figure is closer to 3.3%. The rate of real house price growth has now declined for two consecutive quarters (Fig 1).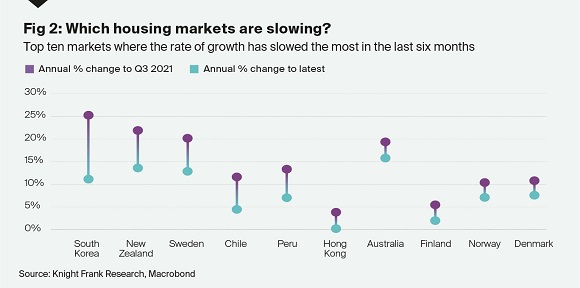 Turkey leads the index with nominal price growth breaking into the rarefied three-digit threshold (110%) but subtract its consumer price inflation of 69.9% and the real figure deflates to 30%.
Analysis by world region (omitting Turkey's stellar growth) shows North America outperforms with average growth of 18.6%, followed by Europe (11.6%) and Asia-Pacific (6.4%).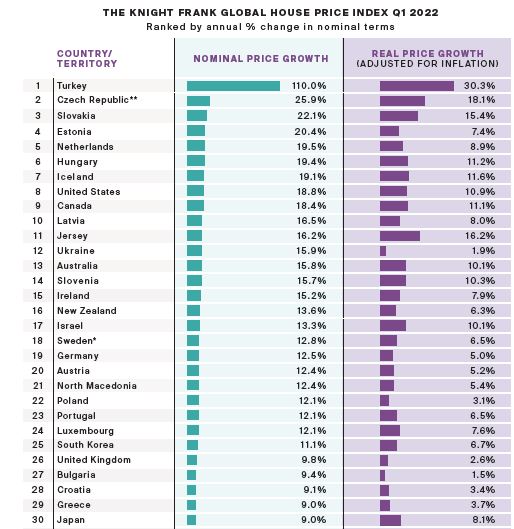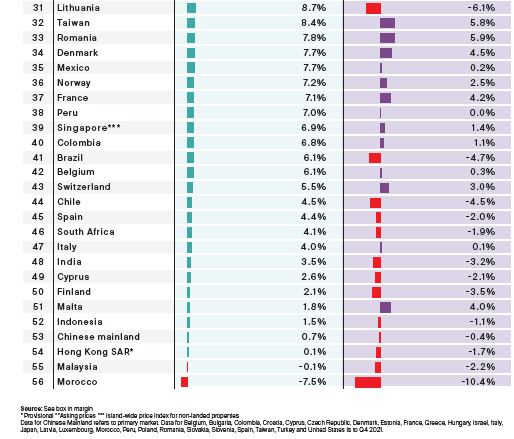 Courtesy: Knight Frank

Sources: Knight Frank Research, Macrobond, Bank for International Settlements, Australia Property Monitor,National Bank of Austria (Oesterreichische Nationalbank),Statistics Belgium, Brazilian Foundation Institute ofEconomic Research (FIPE), Bulgarian National Statistical Institute, Teranet, National Bureau Statistics, Chilean Chamber of Construction, Colombian National Administrative Department of Statistics (DANE), National Bank of Croatia, Central Bank of Cyprus (CBC), Eurostat, Statistics Denmark, Statistics Estonia, Statistics Finland, French National Institute of Statistics & Economic Studies (INSEE), VDP, Bank of Greece, Hong Kong Rating & Valuation Department, Statistics Iceland, Bank Indonesia, Irish Central Statistics Office (CSO), Israel Central Bureau of Statistics (CBS), Italian National Institute of Statistics (Istat), Japanese Ministry of Land, Infrastructure, Transport & Tourism, States of Jersey Statistics Unit, Lithuania State Enterprise Centre of Registers, Macedonian Statistical Office, Malaysian Valuation & Property Services Department, Central Bank of Malta, Mexican Federal Mortgage Company (SHF Sociedad Hipotecaria Federal), Statistics Netherlands (CBS), Real Estate Institute of New Zealand (REINZ), Statistics Norway, Central Reserve Bank of Peru (BCRP), Polish Central Statistical Office (GUS), Portuguese National Statistics Institute (INE), Singapore Urban Redevelopment Authority (URA), Central Bank of Slovakia, Slovenian Statistical Office, First National Bank, Statistics Korea (KoSIS), Spanish Ministry of Development, Statistics Sweden (SCB), Wuest & Partner, Taiwan Ministry of the Interior, Central Bank of the Republic of Turkey (TCMB), HM Land Registry, S&P Case Shiller.
We like questions, if you've got one about our research, or would like some property advice, we would love to hear from you.
Sales enquiries
Mark Harvey
+44 20 7861 5034
Research enquiries
Kate Everett-Allen
+44 20 7167 2497
Press
Emma Stanley-Evans
+44 20 7861 1182
Knight Frank Research Reports are available at knightfrank.com/research
© Knight Frank LLP 2022. This document has been provided for general information only and must not be relied upon in any way. Although high standards have been used in the preparation of the information, analysis, views and projections presented in this document, Knight Frank LLP does not owe a duty of care to any person in respect of the contents of this document, and does not accept any responsibility or liability whatsoever for any loss or damage resultant from any use of, reliance on or reference to the contents of this document. The content of this document does not necessarily represent the views of Knight Frank LLP in relation to any particular properties or projects. This document must not be amended in any way, whether to change its content, to remove this notice or any Knight Frank LLP insignia, or otherwise. Reproduction of this document in whole or in part is not permitted without the prior written approval of Knight Frank LLP to the form and content within which it appears.