Profile > Mpume Maphumulo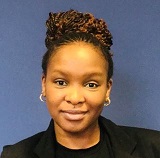 Contact Mpume
++27 78 831 8724 Mobile
[email protected]
"Mpume Maphumulo is employed in the property management division as our debtors' controller where she has specialised in tenant credit profiling and account monitoring."
Mpume Maphumulo
Debtors Controller

Mpume has gained experience in marketing and dealing with suppliers, customers and making sure problems get resolved timeously.

Her key Responsibilities are as follows :

• Capturing and updating of tenant details.
• Rental collection which includes recoveries such as tenant utility charges.
• Raising of late payment penalties and interest to tenant accounts when necessary
• Issuing notices and letters of demand.
• Assisting in the handover of defaults to the litigation attorneys
• Tenant profiling with the Credit Bureaus
• Expediting payments and follow up on outstanding debt

Mpume adores spending time with friends, family and travelling.
She greatly enjoys working at PPI and is looking forward to furthering her studies in the Property sector.