Profile > Yianni Pavlou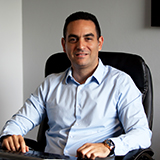 Contact Yianni
++27 82 494 4555 Mobile
[email protected]
"Yianni Pavlou covers both the residential and commercial property sectors in Durban as well as property auctions and Cyprus property investments."
Yianni Pavlou
Principal and Founding Member

Yianni Pavlou holds a B.Com (Honours) Degree from the University of Natal where he majored in Economics and Business Management. He is also a certified member of the Chartered Institute of Purchasing and Supply in the UK having achieved their Professional Designation qualification. He has worked both locally and internationally within the Corporate business environment where he specialized in Supply Chain Management and Procurement.

After successfully investing in various properties in Durban and surrounding areas he co-founded Portfolio Property Investments. Driven by his passion and desire to excel in the property sector as well as combining his understanding of the property market and its intricacies the company has enjoyed massive year on year growth.

Hard work, honesty and integrity are key ingredients to his recipe for success. Yianni is a fully certified Principal member of the South African Estate Agency Affairs Board and has achieved his NQF Level 5 National Certificate in Real Estate. He has also undertaken the PDE 5 examination and been awarded a Certificate of Professional Recognition as Master Practioner in Real Estate (MPRE) by the Board.

Yianni is a well-respected individual with a diverse client base that offers repeat and referral business. His favourite past time and hobbies include Sport, reading and spending time with friends and family.