Profile > Cindy Rangasamy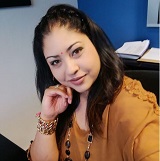 Contact Cindy
+27 84 478 0019 Mobile
[email protected]
"Cindy Rangasamy is responsible for the office administration and manages our client property portfolio."
Cindy Rangasamy
Office Manager

Cindy Rangasamy has four years' experience in the property field and is responsible for organising all of the administrative activities that facilitate the smooth running of an office.

She makes sure that office equipment is maintained, relevant records are up to date and that all administration processes work effectively.

She also supervises the work of a team of administration staff ensuring that the office runs efficiently.

Cindy is also in charge of property maintenance within our fully managed client portfolio.